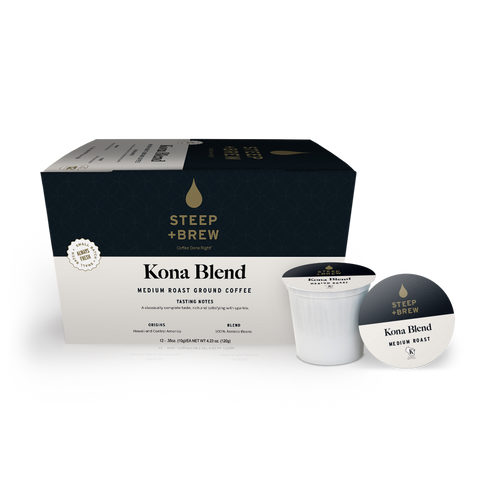 Kona Blend Coffee: Single-Serve
Steep + Brew
A classically complete taste, rich and satisfying with sparkle. 

Single Serve Coffee Pods

12 ct
Steep+Brew Coffee
Medium Roast Coffee

Customer Reviews
08/05/2021
Martin S.

United States
I highly recommend!
I normally do not care for blends, but I am really enjoying this coffee. Very good! I highly recommend!
06/01/11 12:00 AM

08/05/2021
Kris M.

United States
Smoothest Kona Blend Made!
If you are looking for an excellent blend from the Hawaiian Islands, look no further. This is the smoothest cup of Kona Blend made! The price is unbeatable too! Thanks Steep & Brew!
10/10/08 12:00 AM

08/05/2021
Carolyn

United States
No Other Coffee Will Do!
My husband and I tried many different kinds of coffee trying to find one we both thought was excellent. The Kona Blend is number one with us. Since our store quit carrying it, we will have it shipped to us rather than switch coffees or coffee companies. No other coffee will do. It also makes excellent tiramisu.
01/30/06 12:00 AM

Kona Blend Coffee: Single-Serve
Successfully added to your cart!