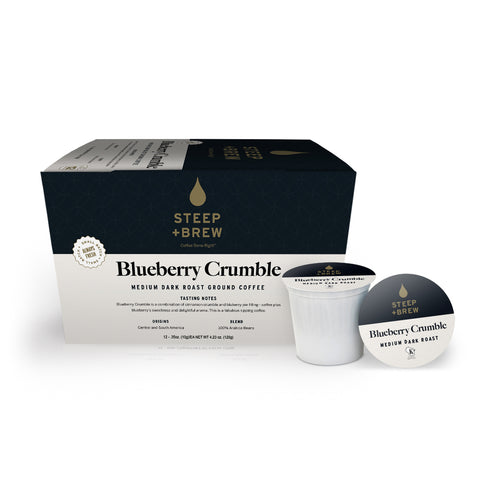 Blueberry Crumble Coffee: Single-Serve
Steep + Brew
Wow! What a heavenly combination - coffee plus blueberry's sweetness and delightful aroma.
Single Serve Coffee Pods

12 ct
Steep+Brew Coffee
Light Roast Coffee

Customer Reviews
06/24/2022
Catherine N.

United States
Blueberry Crumble Coffee: Single-Serve
Delicious. My favorite coffee of all time.
08/05/2021
Katie

United States
CoffeeLove
This is one of my all time favorites. The only place however that I can find Steep&Brew is in my hometown (Warsaw) so it's frustrating when I'm away at school and run out. Now, when I go home, I ALWAYS make sure to stock up on my coffee (as you can see.) One of my best friends is also now in love with Blueberry Crumble. Buttercrunch Delight is one of my other all time favorites! I'm glad I found this brand; fine coffee that is affordable for a poor college student! :)
2/5/2014 19:41

08/05/2021
Marci

United States
Favorite Spring-Summer Coffee!
This is by far our favorite flavored coffee for spring and summer.
1/21/2008
08/05/2021
Kristen

United States
Best Blueberry coffee ever!
The best blueberry coffee we have ever had, add Splenda and French vanilla cream and its a trip to your favorite donut store to have a glazed blueberry fritter!
1/27/2014 7:31pm


08/05/2021
Shian

United States
Simply The Best!
Blueberry Crumble had me hooked from the first cup. I told everybody I knew about it, and the ones I let share mine with me were the same way. They recently pulled your brand from our local Rainbow Foods and I've been completely beside myself. Lucky me, they were able to tell me where to find you online. Now hopefully, you never get rid of this flavor. Simply the best!
9/21/2013

Blueberry Crumble Coffee: Single-Serve
Successfully added to your cart!